This is the layout I had intended for our great room...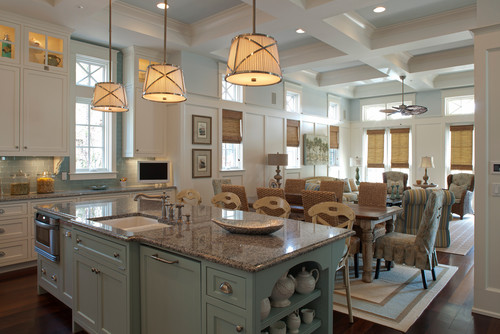 Traditional Kitchen
by
Santa Rosa Beach Architects & Designers
Geoff Chick &
Associates
Kitchen at the back with island facing the great room, dining room table in front of island, family room seating in front of that and a beautiful fireplace and built-in against the far wall (in the photo it just shows windows, but that would be our fireplace wall). I hate when islands are lengthwise (if that makes sense?) like shown in this photo:
I hate when the seating is along the side and thereby in the kitchen. Not to mention the lighting looks way better across, like shown in the first photo. But I need to get over all that pretty quickly since I just learned from our contractor (did I mention that I think we chose our contractor and structural engineer? hurray!!!) that there has to be 3 feet all the way around the island. Because our kitchen is long and narrow, this means that if I situate the island the way I want it, it will be super small- barely big enough for 2 chairs. I'm so bummed!! I was so excited about finally having the exact greatroom layout I have always wanted. I know this seems like no big deal, but there is a list of random requirements I had for this house based on things I hate in our old house, and that was a big one.
Here is more of what I was envisioning- closer to our kitchen because it's U-shaped, except ours is FAR more narrow and long...
So now our options are to do just a pennisula at the end of the kitchen OR do a pennisula and a small island OR do a larger lengthwise island. None of which sounds good to me. I also don't like pennisulas.
If we did just a penninsula, it would be like this except our kitchen is much longer so the pennisula would be much further away from the range (which is why an island would fit in the middle), and we also won't have the large doorway- it will be all open...
I don't think our kitchen is this narrow, but here is an example of a pennisula with a lengthwise stand-alone island in the middle (we would do a larger built-in island with a prep sink)...
I'll know more once we tear out the walls and get the plan/layout options from the structural engineer. But I'm off to Houzz to research more kitchen island options!
Oh, but in good news, I think I *can* get that exact vanity that I want for the kids' bathroom! I was thinking we would go with KraftMaid or something in their bathroom to save money but because they have this little built-in linen closet across from their vanity (it's so adorable- I love those details of older houses!), we probably have to get a custom vanity so he can make custom doors & drawers for the linen closet that match...I don't think KM sells just doors, and since the house is so old, I'm sure the doors are weird non-standard sizes anyway. Yay. :)