I did a little measuring and floor plan drawing, and I realized that I can't have an island in my kitchen at all! After I stopped pouting, I decided that I need to get over it and embrace the idea of a peninsula. And the little skinny free-standing [lengthwise] island I'm going to have the cabinet guy make for me. ;)
So here are some peninsula photos...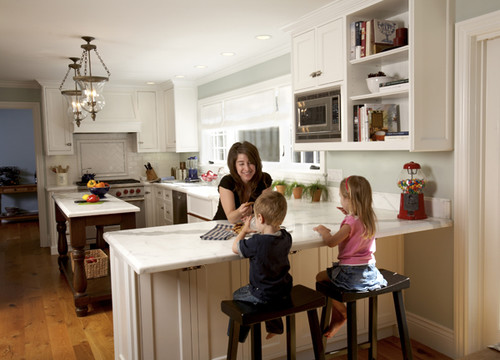 Those are pretty, right? It's not that I'm opposed to the idea of a peninsula in general, it's just not what I envisioned for my new kitchen. Mostly because I had planned on doing this where the counter ends...
Which I obviously can't do with a peninsula coming out of that end. And partially because I find that a peninsula will be prohibitive in our kitchen design because (a) our French doors will be located exactly like the photo above so having a penisula there means you have to walk all the way around it to get out those doors, and (b) it will allow less room for the kitchen table. But, since it's my only option, I need to get over it!
In my floorplan drawing, I did learn that I think our walk-in pantry is going to be over 9'x5'!!!! That's huge!! SO EXCITED. If my measurements are correct...which is questionable. ;) Also, Gary met a bunch of our new neighbors today, and they were so friendly, told him that there are tons of kids in the neighborhood always playing outside, AND, my best news ever and something I have ALWAYS wanted, they do neighborhood block parties all the time, and the first one is Labor Day so they want us to come to meet everyone even though we won't be living there yet. SO EXCITED again!! I don't even live there yet, and I so heart our new neighborhood!